Johnny Taylor was a main character on The Dumping Ground from Series 1 until Series 3; he also was on all the three series of TBR. He is a brave, loyal, caring and protective friend/brother. He has anger issues but learns to control them by the second series of The Dumping Ground. Hot-tempered and a bad attitude, that doesn't stop him being overprotective, towards others. He is the older brother to his two sisters Tee Taylor and Hope, and the son of Lucy Taylor and step-son to Keith. He was portrayed by Joe Maw.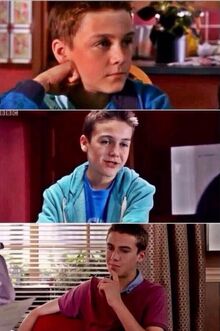 Personality
Johnny is an extremely hot-headed boy. He gets angry quite quickly. Although he can control it and is very funny. He is a loyal and caring Friend and a protective brother, and a very tidy one, Keith made him be tidy so that the house was spotless that is why Johnny is keen for his room to be tidy. He does not really have a Best Friend, but has friends. He was one of the longest stays at The Dumping Ground from Series 1 of Tracy Beaker Returns until he joined the army in The Dumping Seires 3 Episode 10 when he stands up to his Evil Ex–Step Dad, Keith. He appears to be Frenemies with Elektra Perkins and Tyler Lewis, mainly in Series 1. He had a crush in Series 1 of The Dumping Ground called Esme but it did not last.
Trivia
He is very tidy.
Johnny has two younger sisters, called Tee Taylor and Hope.
Taylor is now in the army.
Johnny was born in 1998; he would now be 19.
He left on Series 3 Episode 10: Dragon Slayer.
He has anger issues.
Johnny wanted him and his sister to get fostered badly.
He stood up to his evil ex–step father, Keith, on the episode Dragon Slayer.
He was credited on the sixth episode of the fourth series, but was not seen on the episode.
Tee got fostered while Johnny didn't by the Watsons.
Gallery
Community content is available under
CC-BY-SA
unless otherwise noted.