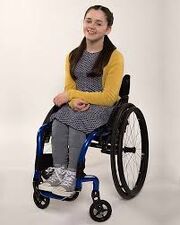 Chloe Reeves is a main character in The Dumping Ground. She made her first appearance, as a guest character, in the Series 4 episode, Hold the Front Page. She then returned as a main character, from the Series 4 episode, It Takes Two.
Personality
Chloe is a friendly, sweet and thoughtful girl. She is caring towards others, but was disgusted at her older brother Ryan when she discovered he wasn't nice at all.
Physical Appearance
TBA
History
Before the Show
When Chloe was young, she got pushed out the window by Ryan while her mother was out and broke her spine. That's why unfortunately she has a wheelchair. But it wasn't his fault as he was too young to take care of a toddler.
Series 4
TBA
Series 5
TBA
Trivia
She was revealed to be 12 in Series 5 Episode 4
Gallery